Youth Outreach Initiative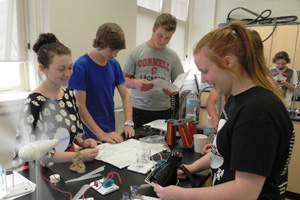 UOIT takes clean energy research message to Durham Region high school students   
More than 100 high school science students took part in a series of sustainable energy workshops organized by the Clean Energy Research Laboratory (CERL) at the University of Ontario Institute of Technology (UOIT).
UOIT faculty members and graduate students were invited by four high schools across Durham Region to share how they are developing renewable energy technologies to advance hydrogen as practical alternative as a renewable energy source. Following the workshops, CERL provided teachers with special kits that will allow students to conduct their own simple renewable energy experiments in the classroom. 
"UOIT is seeking answers to tomorrow's challenges through innovative research, so we are really pleased with how warmly our outreach efforts have been received by students and teachers alike," said Ed Secnik, CERL Manager. "UOIT is very supportive of students exploring courses in science, technology, engineering and mathematics (STEM-based disciplines), and perhaps some of these students will eventually become UOIT researchers."
CERL's tour included workshops for students at:
Dunbarton High School, Pickering
Eastdale Collegiate and Vocational Institute, Oshawa 
Henry Street High School, Whitby
O'Neill Collegiate and Vocational Institute, Oshawa
"UOIT's hands-on and interactive workshops provided an exciting opportunity for students in all grades to discover how various forms of renewable energy sources are created," said Sandra McEwan, Science and Technology Program Facilitator, Durham District School Board. "CERL certainly piqued the students' curiosity and helped them make meaningful real-world STEM connections. The hosting teachers at each school were appreciative to receive the renewable energy kits, as were the students who also received CERL's hydrogen power themed t-shirts."
Since 2010, CERL has been leading an international consortium to advance the production of hydrogen through clean production methods such as the splitting of water molecules into their hydrogen and oxygen components.
Last year CERL visited Maxwell Heights Secondary School in Oshawa, Pine Ridge Secondary School in Pickering and J. Clarke Richardson Collegiate in Ajax.